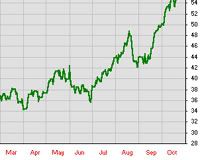 Found on
ModernVespa.com
, it seems an estimated price list on the Vintage Series Vespas is available. Its not anything I have been able to confirm yet, but since we're in the Midwest, I'm sure it'll be a number of days before we here any news. More interesting though is the word that all prices on next years bikes go up a bit, so if you've been on the fence about doing the do, go ahead and do it now.
"The prices in the U.S. are as follows: GT60 $7299 GTV $6799 LXV $5199 Also, if you're considering buying a Vespa soon, there will be a slight price increase in January on the standard models. It won't affect the vintage models listed above. The LX 150 is increased [$100] The GT 200 is increased from [$100]. The GTS 250 is increased from [$200]... Buy before year end and beat the price increase."
Thanks again to
Vespa Pomona
for this information. Also worth noting is that the prices quoted by Pomona are before freight, setup, and processing charges.