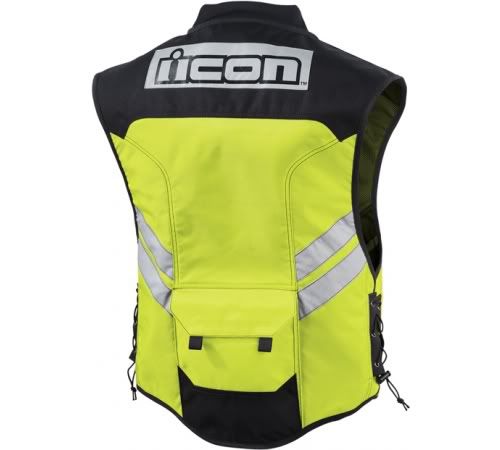 Or better yet,
BE SEEN, NOT HEARD!
I didn't know what to title this post, regardless, for those who've called in and sent emails regarding ways to add visibility to their scoots, I have a suggestion.
It's a common mistake to think that the color of your scooter alone is a factor in the equation of how well you're seen on the road. While it
is
a variable, its not the only one, heck, it may not even be the biggest one. Arguably, the biggest way for one to increase their own visibilty on the road is to dress themselves in more visible attire. Whether that be a pink helmet or
liberty spikes
, you have to remember that while you want other drivers to notice your bike on the street, you also want folks to see YOU!
The above pic is of the MIL SPEC vest from Icon. It comes in that nuclear green color you see above and a slightly (meaning, not really...) calmer construction orange with bright reflective piping all over. It meets the specifications for riders that happen to be in the military, and you won't believe how much more visible you are if caught in a rainstorm. To put it plainly: you are the additive-inverse of invisible. Comes with a few pockets, and can be ordered big enough to fit over your favorite riding jacket or scoot gear.
HIGHLY RECOMMENDED!
est. $45 :D
We have access to the Icon gear now, but we're still experimenting with what our customers (thats you!) need. Send us some
email
if you're interested and we'll get this baby in for you!
Happy Motoring and stay VISIBLE!
-keef