This is the first post like this here for our our blog, so I apologize for the awkwardness of it, but when Joe and Ernie Tilford decided to share a few pics of their rides with us, we decided a little akwardness would be worth it. For those who don't know, Joe and Ernie are the Son and Father tag-team steel-cage deathmatch champions from Kansas City who, by happenchance, are also really nice guys. You can see them at the shop on occassion, bothering our mechanic, Jason, or our Aftermarket MGR, Christopher for goods and services.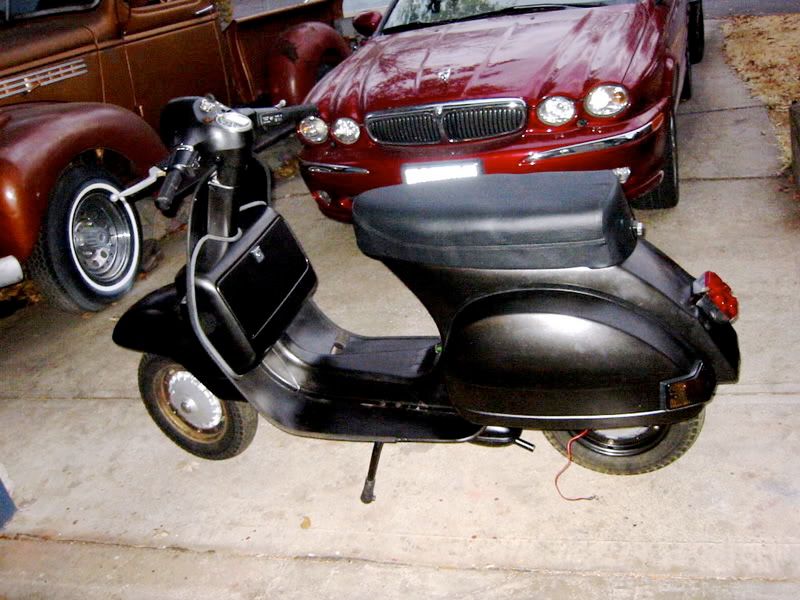 I had asked Joe to share a bit on how he and his pop found themselves fans of the Italian scooter.
"Short story about how I got into scoots is that Grandma got a little electric scoot for the grandkids; well me and Paw got to put it together, and of course we had to take it for a sping to make sure nothin' fell off. So I tok it for a spin and decided the little scoot wasn't ad at all, so I priced vintage Vespas-because to me, Vespa was the only scooter I would buy(now it's Vespa and Lambretta-and took a new PX for a test ride. That was all she wrote; I was hooked."
Ernie aquired his now black P200E via craigslist.com. Personally I remember the ad for it: P200E all in parts, not time for restoration. As the first shows, it seriously was all in parts which I belive were all in boxes, the body primered for paint and accompanied with a vintage side-car! "One man's trash..." Mr. Tilford spent the last month and a half and the pictures above are the product of that time spent. That's dedication!
Joseph's GL was actually purchased from our very own Christopher! When asking Chris as to why he sold it, a wrinkle appears on his forehead, and his eyes say he misses it a little. I believe the story was that Chris was going to put a newer 200cc powerplant in place of the antiquated 150cc that it came with in the '60s. Apparently the scooter gods were going to send Chris elsewhere, so it ended up finding a nice home with Joseph & Co.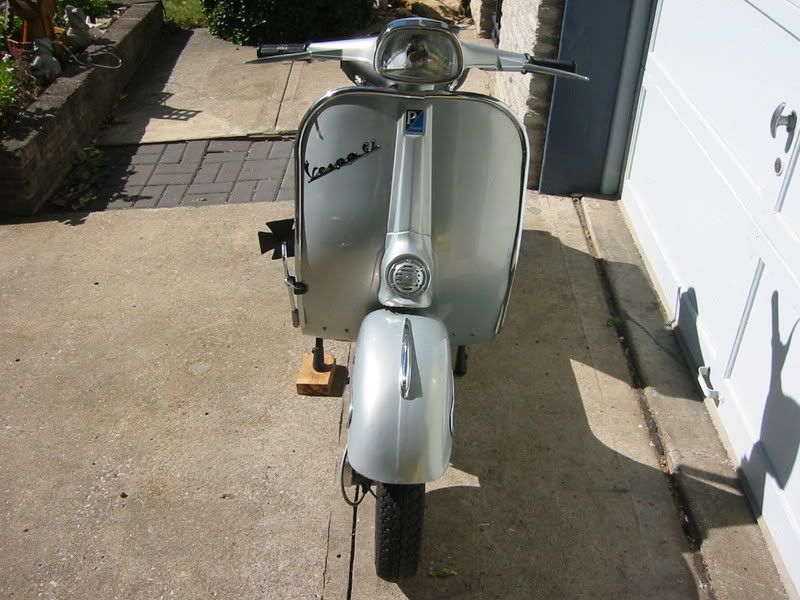 Joseph has been working on the GL for a month to a month and a half, primarily getting the engine in tip-top condition. Its ready to run now, but seeing that its not the warmest of weather, it hasn't seen much tarmac time. When pressed about what he likes best about his scoot, he writes: "I can wear me kilt whilst riding and I feel comfortable turning a U-turn."
I asked Joe about future plans for the scoots.
"I want to kit my scoot a bit; when I have the money, I want to put a 200 motor in it. I think dad is going to leave his stock :)
"We (me and paw) give credit to Jason and Chris for helping when we had a question concerning scoots that we could not figure out, ie; why won't it start, why is my scoot making that weird noise?"
Thanks to Joe and Ernie for sharing their scoots with us! If you'd like to share, send us an email and some cookies (Vegan-friendly) and we'll see what we can do!