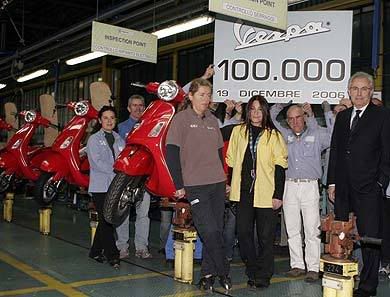 This month, the 100,000th Vespa of the year was produced at Piaggio plant, marking a milestone that hadn't previously been met since
1990
. Wow! In doubling the production numbers from 50,000 units in 2004, the folks at Piaggio had a lot of reason to celebrate. In promising to donate on Euro for each Vespa sold during 2006 and '07 to the Italian Multiple Sclerosis foundation, Piaggio isn't the only one having a party this month.
Click here
for the original post, via
2strokebuzz.com

To put some of this into perspective, lets take a look at the year 1990...
Seinfeld and The Simpsons were becoming popular sitcoms in many homes.
Iraqis invaded Kuwait
The World Wide Web was created(1989-1990)
The Hubble Space Telescope was launched
The Berlin Wall became history
South Africa ended apartheid
The Russian and former USSR states begin their decline into depression
Club dance music hits an all time pop high
Piaggio produces 100,000 Vespa models
To provide insight into the line-up available around that year that was so successful for the Vespa founding fathers and mothers, I did a little research. It seems that beyond the Piaggio Sfera and the Vespa 50 Special being reintroduced to the world, everyone was still riding around on PXs, PKs and T5 pole positions. Quite a different world of scooters nowadays eh?