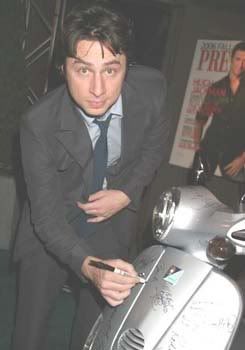 Not really. Unless you're in Canada.
MTV Canada is auctioning off a bunch of swag for HIV/AIDS research.
"MTV is auctioning off all kinds of sweet swag, exclusive trips and celebrity memorabilia to raise money to fund its
Staying Alive Foundation
, which funds HIV/AIDs research.
Trips include the chance to hope a jet to Copenhagen to take in the MTV Europe Music Awards, a trip to New York to be in the TRL audience, a visit to the Laguna Beach set and a trip to the World Ski and Snowboard Festival in Whistler. If autographed garb is more your bag, you can bid on a signed Beastie Boys skateboard deck, a guitar signed by Carmon Elektra castoff Dave Navarro or an autographed John Mayer poster and CD catalogue. There is also a prize pack that includes a set of
Vespa
scooters
signed by some 60 celebrities, including Penelope Cruz, Jennifer Lopez, Morgan Freeman and Zach Braff during the Toronto International Film Festival.
Currently 40 million people around the world have HIV and AIDS, and an estimated 90 per cent of those infected don't know they have the disease. Every six seconds, someone becomes infected with the deadly illness. Visit
http://www.mtvauctions.ca/
to bid on an item or make a donation."
Gleaned from Dose.Ca
Unfortunately, this is more for the Canadian bacon folks vs us American cheese folks. Oh well. If you still want to bid for a good cause, click
here
. The
Vespa
is signed by J.Lo Zach Braff, Christian Bale, Lance Bass, James Blunt, Emilio Estevez, Morgan Freeman, Danny Glover, Jeff Goldblum, and a LOT of others. The auction itself gives a nice summary of the
Vespa
scooter
, and its definitely worth a read.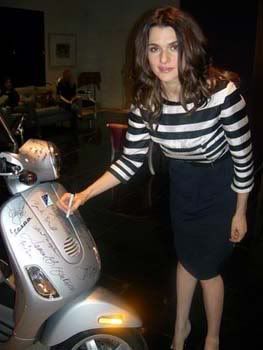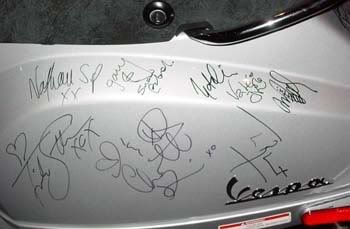 One thing I learned from reading the above is.. well, I'll just cut and paste:
"Driving a
Vespa
in and around the city is an ideal way of beating traffic congestion as well. The City of Toronto passed a by-law last year allowing for
scooters
and motorcycles to park for free on city streets where they are Green P ticket machines. Other cities are expected to follow, but the by-law underscores the fact that Toronto, is indeed trying to promote
scootering
as a way of getting around town. Moreover,
Vespa's
are incredibly fuel efficient. While it varies from model to model, you can fill a
Vespa
up at the pump for approximately $8.00 and that will take you approximately 220/KM. "
Free parking eh? I should call my congressman. Toronto's initiative to help out their motorcyclists and scooterists sounds a lot like the
Vespatition for parking
that started this summer. Which, by the way, if you haven't done it yet,
WHAT ARE YOU WAITING FOR?!



-Keef