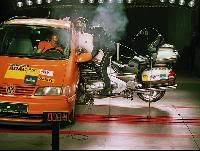 Not that this is entirely unrelated to you, but it's nice to see that new technologies are being trialed and implemented to further our safety as riders.
"The first public tests of Honda's new airbag system for the Goldwing have proved conclusively that it will save lives."
"The tests were commissioned by the General German Automobile Association and drove two Goldwings in to the side of a static car at 44mph. One was fitted with the new airbag and the other was standard. The results were conclusive as the dummy on the unprotected bike ended up with a broken neck while the airbag protected rider only suffered light injuries."
-via
Motorcyclenews.com