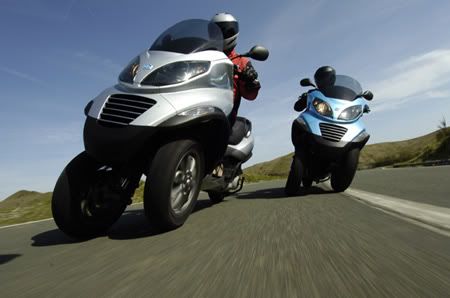 that's right;
THREE
wheels. Many of you may know about this incoming phenom of the motorcycling world, many of you may not. But what makes this not-quite-a-trike so special is that the front suspension
leans
. Up to 40 degrees, at that! Not only does that make this bike more stable than any scooter on the market, but it brakes 20% more efficiently AND has more
high-turn stability
than your average
four-wheeled car
!!
Seriously.
At the shop we already have a bunch of folks on a list ready to grab when the product arrives stateside. Unfortunately, I don't know when that is... BUT, the U.K. seems to have been enjoying theirs since the middle of August. Click this
link
to see what I mean.
As far as more general info about the MP3, check
here
or
here
and gather some knowledge.
For lazy folks, the MP3 is a scooter designed for those who want a spirited ride without having to worry of falling off. Heck, there's not even a kickstand! Three wheels versus two means more grip, even in the wet, with traffic busting power in either a 125cc or 250cc engine. If you're the type who likes the benefits of a scooter or motorbike, but are afraid of it because of balancing or maneuverability, this is the vehicle for you.
Shoot us an
email
if you want to add yourself to the contact list.